Powering the Innovation Ecosystem in the Monterey Bay Region
Startup Monterey Bay supports entrepreneurs, innovators and the startup community in Monterey, San Benito, and Santa Cruz counties with training, workshops, events, competitions, information about local resources, and opportunities to connect and network. This is a great region to live and work and we want to enable local entrepreneurs, innovators and startups to be able to succeed in this region.
Startup Monterey Bay is a program of the CSU Monterey Bay Institute for Innovation and Economic Development. The Institute is housed within the College of Business, and serves the university and its surrounding community.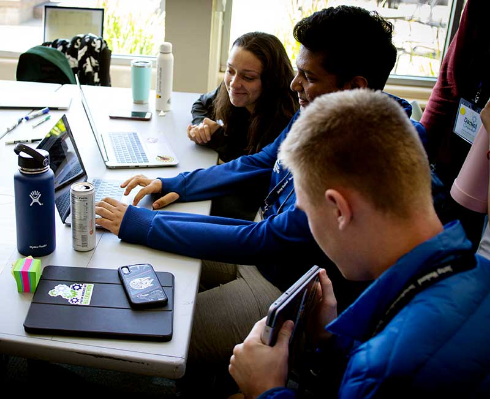 Bob Margevicius, – Specialized Bicycle Components

Brad van Dam – American Casting Co.

Brooks McChesney – Retired CEO and Investor
Brigid McGrath-Massie – Author and Professional speaker
Carmen Herrera – Director, El Pajaro Community Development Corporation
Carrie Nikitin, Chief Business Strategist, Powerful Women International Connections
Charly Franklin – Retired attorney, Real Estate Manager, Developer

Colton Bollinger, CEO, Jumper Media
Craig Vachon, CEO, AI Redefined
Dave Côté, Advisory Board Chair, Switchboard
Dennis Donohue – Director, Western Growers Center for Innovation & Technology
Doug Erickson – CEO, Santa Cruz Works
Harvey Dadwal – Owner and CEO, Marriott Springhill Suites at the Dunes
Ian Oglesby – Mayor, City of Seaside
Jennifer Dacquisto – SVP, Bank of America
Joel Gambord – CEO, Joel Gambord Investments
John Dicconson – CEO, Tech Care Now
Kelly Crampton, Strategic Advisor, Excelligence Learning Corp.
Martha Watson – Principal, Watson Consulting
Marylou Shockley, Interim Dean, College of Business at California State University Monterey Bay
Paul Powers, Partner, Paul Power Associates
Rene Mendez, City Manager, City of Watsonville
Scott Komar – SVP, Driscoll's Berries
Shyam Kamath – Founding Dean, College of Business at Cal State Monterey Bay
Tom Armstrong – White Summers Caffee & James, LLP

Associated Professors and Researchers
• Angie Nariswari, PhD, College of Business
• Dante DiGregorio, PhD, College of Business
• Eric Tao, PhD, School of Computing and Design
• Heiko Wieland, PhD, College of Business
• Jenny Lin, PhD, College of Business
• Joel Ryman, PhD, College of Business
• Joshua Gross, School of Computing and Design
• Miguel Lara, PhD, School of Computing and Design
• Paige Viren, PhD, College of Business
• Rosalyn Sandoval, PhD, College of Business
• Shwadhin Sharma, PhD, College of Business