CEO Works Luncheon
October 25 @ 11:30 am

-

1:15 pm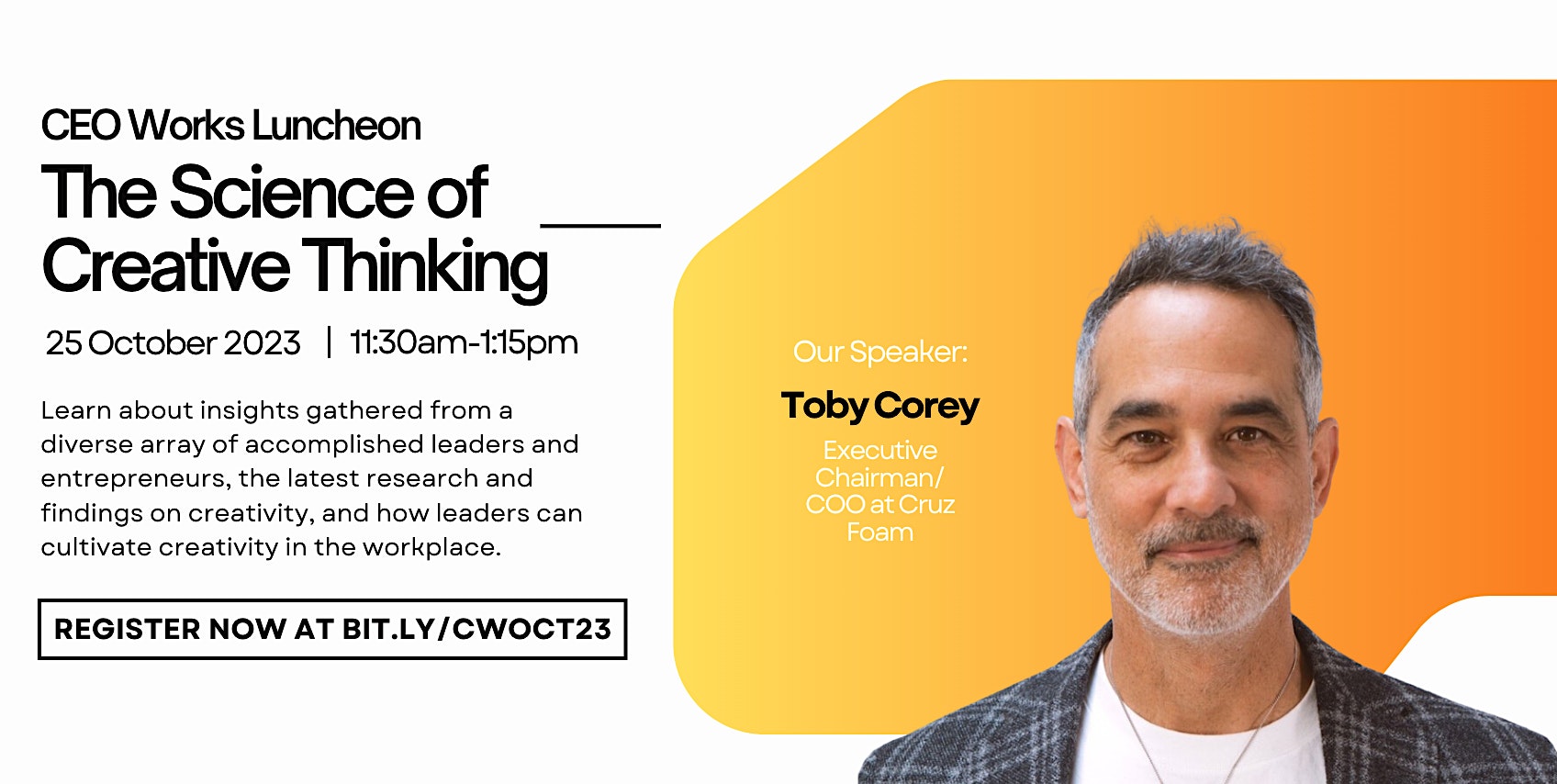 Learn practical tips and insights from accomplished leaders, entrepreneurs, and the latest research findings on creativity and innovation.
Ticket Registration for Lunch Included Admission Closes at 4pm on Monday, October 23.
Creative thinking is the foundation of entrepreneurship. In a world where businesses play a significant role in driving economic growth, individuals who can think creatively are more likely to come up with unique business ideas, identify market gaps, and create disruptive solutions. The rapid pace of technological advancements, changing economic landscapes, and evolving societal needs make the ability to think creatively of utmost importance to achieve success and remain sustainable.
Join us for an engaging and informative discussion on the science of creativity. Toby Corey will share insights gathered from a diverse lineup of accomplished leaders and entrepreneurs in venture capital, technology, education, philanthropy, and more, the latest research findings on creativity, and practical tips on how CEOs and leaders can cultivate creativity in the workplace and foster a culture of innovation. Topics to be covered include the connection between creativity and business success, the role of diversity, storytelling, a collaborative environment in nurturing creativity, plus the challenges and ways to go about maintaining creativity in a highly competitive business environment.
About Toby Corey
Toby Corey is a successful entrepreneur, former Stanford Entrepreneurship Lecturer, Tesla executive, and Cruz Foam Executive Chairman. Toby's entrepreneurial journey begins with creating the world's largest and most successful Web development company with a successful IPO and $3b market capitalization. Toby ran 3 billion+ P&Ls and managed organizations with over 7,500 operating around the world. He's excited to create a compelling and unique thought-leadership lecture series platform at UCSC. Toby is currently the Executive Chairman/COO at Cruz Foam – On a mission to accelerate the adoption of sustainable materials.
Reserve your seat now for an event poised to shape Santa Cruz's business future!
Admission fee includes lunch. If you have any special diets or food allergies, please let us know in the ticket registration comments/email or bring your own meal.
————————————————
If you are an existing Santa Cruz Works Partner or Member, use your unique promo code for a discount. If not, there is no time like the present to join the SC Works! JOIN
Thank you to our Partners!