Conferencia de Liderazgo para Emprendedoras Latinas
September 23 @ 9:00 am

-

2:30 pm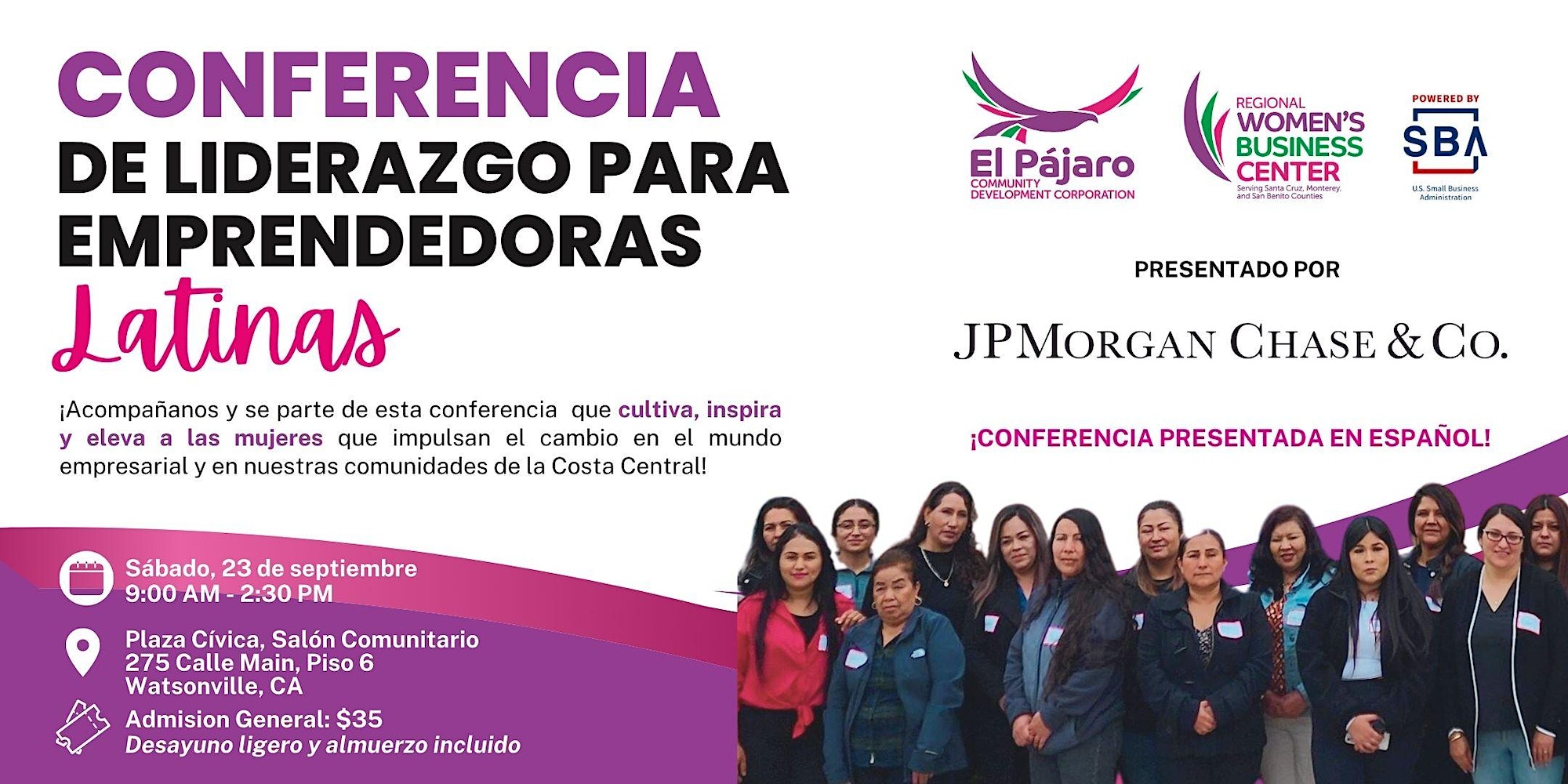 Conferencia que cultiva, inspira y eleva a las mujeres que impulsan el cambio en el mundo empresarial y nuestras comunidades.

El Pájaro CDC y el Centro Regional de Negocios para Mujeres se complace en presentar la Conferencia de Liderazgo para Emprendedoras Latinas! Un conferencia diseñada para cultivar, inspirar y elevar a las mujeres que están marcando una diferencia en los negocios y la comunidad.
La conferencia ofrecerá a las participantes:
Talleres y herramientas para hacer crecer sus negocios y lograr el éxito económico
Herramientas para aumentar su impacto en la comunidad
Oportunidades para establecer contactos con otras mujeres latinas exitosas
Mesas de recursos
Se espera que nuestra conferencia reúna a más de 100 empresari@s y lideres comunitari@s de la región. Esta conferencia es presentada completamente en español por personas bilingües y biculturales.
BOLETOS: Admisión general: $35. Se ofrecerá desayuno ligero y almuerzo.
PATROCINIOS: Para oportunidades de patrocinio enviar correo a karlab@elpajarocdc.org.
Este evento es patrocinado en parte por: Small Business Administration (SBA), Ciudad de Watsonville, United States Department of Agriculture (USDA), US Bank y Wells Fargo.
El Pájaro CDC promueve igualdad de oportunidades económicas. Esta institución es un empleador y proveedor de oportunidades igualitarias. De acuerdo con la Ley de Discapacidades Estadounidenses y la ley estatal, puede solicitar adaptaciones debido a una discapacidad comunicándose con la oficina de El Pájaro CDC. Es posible que sea necesario avisar con anticipación para algunas adaptaciones. La inscripción debe pagarse antes de solicitor adaptaciones.

El Pájaro CDC and the Regional Women's Business Center is pleased to present the Latinx Women in Business Leadership Conference! A conference is designed to cultivate, inspire and elevate women who are making a difference in business and the community.
The conference will offer participants:
Workshops and tools to grow your business and achieve economic success
Tools to increase impact in the community
Opportunities to network with other successful Latinax women
Resource tables
Our conference is expected to bring together more than 100 entrepreneurs and community leaders from the region. This conference is presented entirely in Spanish by bilingual and bicultural experts. Translation to English will be available upon advanced request. Please contact info@elpajarocdc.org to submit your request no later than September 15, 2023.
TICKETS: General admission: $35. Light breakfast and lunch will be offered.
SPONSORSHIPS: For sponsorship opportunities send an email to karlab@elpajarocdc.org
This event is being funded in part by: Small Business Administration (SBA), City of Watsonville, United States Department of Agriculture (USDA), US Bank and Wells Fargo.
El Pájaro CDC promotes equal access to economic opportunity. This institution is an equal opportunity provider and employer. In accordance with the American Disabilities Act and state law, you may request accommodations due to a disability by contacting El Pájaro CDC office. Advance notice may be necessary for some accommodations. Registration must be paid prior to accommodation requests.