Santa Cruz New Tech April 2023
April 5 @ 6:00 pm

-

May 1 @ 8:00 pm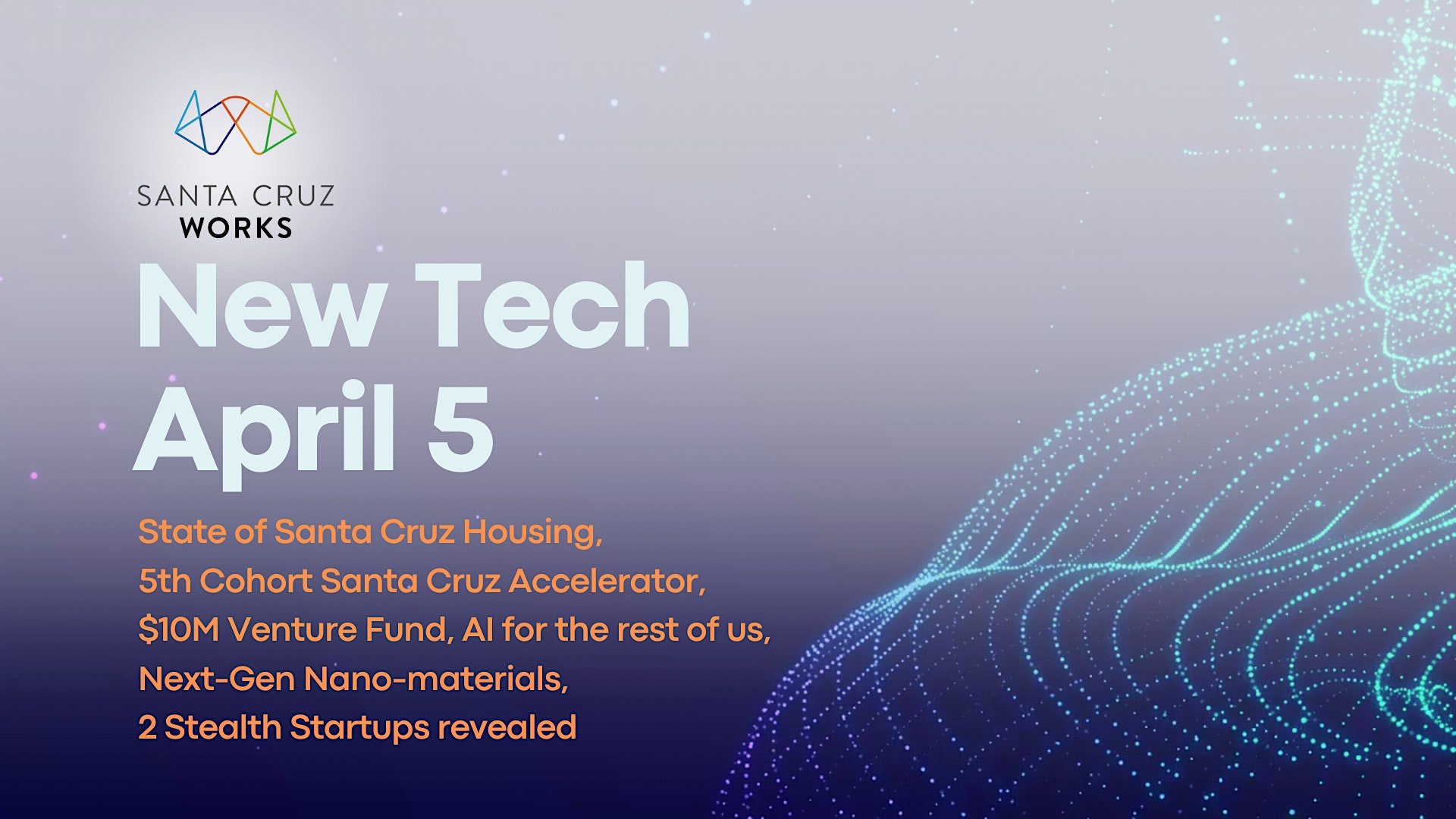 6 new startups, Santa Cruz Accelerates #5, Venture Fund, and more.
We are taking it to the next level at our monthly New Tech on April 5.
We'll kick off the event by announcing our new $10M Santa Cruz Venture Fund for startups. And the opening of our Accelerator Cohort #5.
Next, presentations by MBEP and New Way Homes on housing in Santa Cruz County: progress, ongoing housing projects, the cost of affordable housing for teachers and startups, as well as the challenges facing the community.
And 5 exciting new startups will present their exciting innovations, jobs, etc.
Presenting Companies
Pirta – over 30% of the heat in cities can be reduced with this revolutionary new paint.
Coreless Technologies – manufacturing next-generation nanomaterials that make rapid tests more sensitive, enabling clearer results and earlier diagnoses.
PishPosh – the first app to crowdsource urban clean-up and reward those who participate. Find opportunities, lend a hand, track your impact— because doing good hits close to home.
Nyckel – build AI into your product without hiring a Machine Learning team, and without costly infrastructure. Train your model in five minutes, integrate it in ten, and let Nyckel's intuitive UI and API do all the heavy lifting.
Here For You – if you have ever lost a child or loved one, you know grief. And you know how much help is needed to move through life's hardest moments. This platform enables people to communicate with each other, express and fulfill needs, and access support resources to help uplift and heal.
Get your seats soon. We are back at the Courtyard by Marriott. As always, admission includes food, live music, and immensely valuable networking.
PARKING UPDATE
Valet parking is not available at this event due to a mix-up with the Marriott. We sincerely apologize for the inconvenience! Please park on the street.
Interested in Volunteering?
If you would like to help with check in, setup, or teardown, please contact malinasantacruzworks.org. Volunteers get in for free!
Refund Policy
Please submit a refund request no later than 24 hours in advance of the event in order to receive a full refund. We will not refund tickets on the day of.