Kitchen's 10th Anniversary Brunch
December 2 @ 9:30 am

-

12:00 pm
Join us for a Winter Fiesta at our Kitchen Incubator!
Celebrate a decade of culinary excellence at our Kitchen's 10th Anniversary brunch at our Kitchen Incubator!
Enjoy a delightful feast crafted by our local entrepreneurs and sip on mimosas!
Gain an exclusive glimpse into our Co-Packing facility and learn how our facility will support local entrepreneurs with cost-effective, quality-controlled and efficient production and packaging services.
Enjoy early access to our Winter Market event before the general public! Our Winter Market features the best local cuisine from our talented entrepreneurs and offers a variety of prepackaged delights from local vendors.
We are honored to announce Tara Lynn Gray, Director of the Office of Small Business Advocate as our keynote speaker.
T icket Options:
E arly Bird Tickets: $80 per person, available until November 13th.
G eneral Admission: $100 per person.
Table Purchase: $1000. It includes 8 general admission ticket and company recognition during the event.
Limited tickets available. Tickets will go fast, and you don't want to miss this opportunity!
S ponsorships:
If you are interested in supporting this event, we invite you to become a sponsor. Please email marketing@elpajarocdc.org for more information.
About the El Pájaro CDC's Winter Fiesta celebration: This event is a 2-part event scheduled for Saturday, December 2nd. We kick off the day with the Kitchen's 10th Anniversary Brunch, a ticketed event where attendees will join us in celebrating the remarkable achievements of our Kitchen Incubator program while enjoying a delicious brunch. The festivities continue with our Winter Market, a community free event running from 12pm to 5pm, which offers a vibrant showcase of our Kitchen Incubator entrepreneurs, local food trucks and local vendors. It's worth noting that our Winter Market is the exclusive event in the community where you can meet our Kitchen entrepreneurs under one roof, and it's the only day of the year when you can get an inside look at our Kitchen facility.
About our Kitchen Incubator: The Commercial Kitchen Incubator is a shared‐use commercial kitchen launched in July 2013 to support local specialty food related businesses on the Central Coast. El Pájaro CDC provides access to a professionally equipped through its commercial kitchen, comprehensive technical assistance and access to markets. Additional layers of incubation are being added for food entrepreneurs including a retail outlet in downtown Watsonville and our upcoming small batch co-packing line.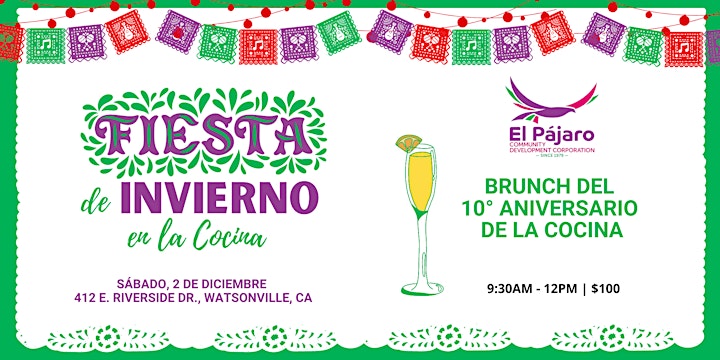 ¡Celebre una década de excelencia culinaria en nuestro brunch del 10º aniversario de la Incubadora de Cocinas Comerciales!
Disfrute de un delicioso banquete elaborado por nuestros emprendedores locales y saboreé de mimosas.
Obtenga un vistazo exclusivo a nuestra nueva planta de procesamiento y empaque y conozca cómo nuestras instalaciones apoyarán a los empresarios locales.
Disfrute de acceso temprano al Mercado de Invierno antes que el público en general. Nuestro Mercado de Invierno presenta la mejor cocina local de nuestros talentosos empresarios y ofrece una variedad de productos empacados locales
Nos sentimos muy honrados de contar con Tara Lynn Gray, Directora de la Oficina de Abogacía de los Pequeños Negocios como oradora principal.
Opciones de boletos:
Boletos Anticipados: $80 por persona, disponibles hasta el 13 de noviembre.
Entrada General: $100 por persona.
Compra de Mesa: $1000. Incluye 8 entradas generales y reconocimiento de su compañia durante el evento.
Boletos limitados disponibles. ¡Las entradas se acabarán rápido y no querrá perderse de esta oportunidad!
Patrocinios: Si está interesado en apoyar este evento, le invitamos a convertirse en patrocinador. Envíe un correo electrónico a marketing@elpajarocdc.org para obtener más información.
Sobre la celebración de la Fiesta de Invierno de El Pájaro CDC: Este evento consta de dos partes y está programado para el sábado 2 de diciembre. Comenzamos el día con el brunch del décimo aniversario de la Cocina, un evento donde los asistentes nos acompañaran para celebrar los notables logros de nuestro programa de Incubadora de Cocinas Comerciales mientras disfrutan de un delicioso brunch. Las festividades continúan con nuestro Mercado de Invierno, un evento comunitario gratuito que se llevará a cabo de 12:00 p. m. a 5:00 p. m. y que ofrece una exhibición vibrante de nuestros emprendedores de la Cocina, loncheras y vendedores locales. Vale la pena señalar que nuestro Mercado de Invierno es el evento exclusivo en la comunidad donde puede encontrar a nuestros emprendedores de la Cocina bajo un mismo techo, y es el único día del año en el que puede echar un vistazo al interior de nuestras instalaciones de cocina.
Acerca de nuestra Incubadora de Cocinas Comerciales: La Incubadora de Cocinas Comerciales es una cocina comercial de uso compartido que abrió sus puertas en julio de 2013 para apoyar a las empresas locales relacionadas con alimentos especializados en la Costa Central. El Pájaro CDC brinda acceso a un equipo profesionalmente equipado a través de su cocina comercial, asistencia técnica integral y acceso a mercados. Continuamos agregando niveles adicionales de incubación para los empresarios de comida, inclueye una tienda en el centro de Watsonville y nuestra próxima planta de procesamiento y empaque.