New Tech January 2023
January 11 @ 6:00 pm

-

8:00 pm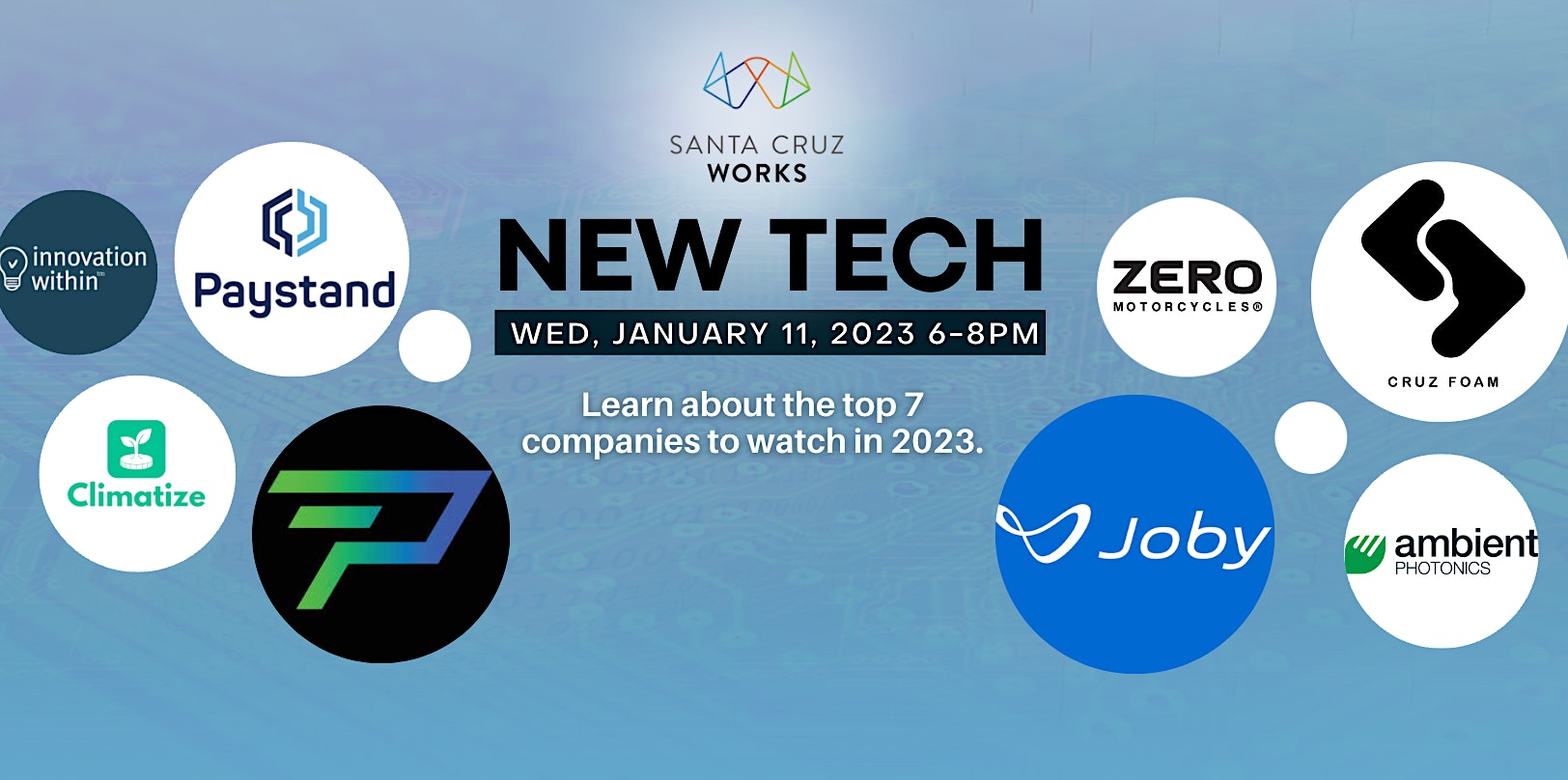 Learn about the top 6 companies to watch in 2023
Join us for the first New Tech event of 2023! The top 7 companies to watch will be showcasing their solutions and products.
Introduction: Innovation Within: Innovation Within's Discovery Platform™ is designed to help entrepreneurs create groundbreaking, viral products based on qualitative research and the scientific method.
Ambient Photonics: Ambient has developed a first-of-its-kind low light energy harvesting photovoltaic (PV) technology that generates more than three times the power of conventional indoor PV technologies from a broader spectrum of indoor and outdoor ambient light.
Climatize: Climatize provides investments in climate projects that potentially support underrepresented communities from as little as $5.
Joby Aviation: Joby is developing an electric vertical takeoff and landing aircraft (eVTOL) that has partnerships with NASA, Toyota, U.S. Airforce, Uber, and has achieved the Part 135 Air Carrier Certificate, which allows Joby to operate a commercial air taxi service.
Parallel Flight Technologies: Parallel Flight provides heavy lift and long-range beyond visual line of sight (BVLOS) applications across multiple industrial logistics
Cruz Foam: Backed by star investors like Leonardo Dicaprio and Ashton Kutcher, Cruz Foam is a sustainable packaging company that aims to replace single-use plastic with solutions made from natural materials that would otherwise go to waste.
Paystand: Paystand uses blockchain and cloud technology to create a more open financial system, starting with B2B payments.
Zero Motorcycles: Zero produces high-performance electric motorcycles that are lightweight, efficient, fast off the line and fun to ride. Each motorcycle is optimized from the ground up to leverage the revolutionary Z-Force® electric powertrain and uses a specially designed rigid, aircraft-grade aluminum frame to minimize weight.