Santa Cruz New Tech June 2023
June 7 @ 6:00 pm

-

8:00 pm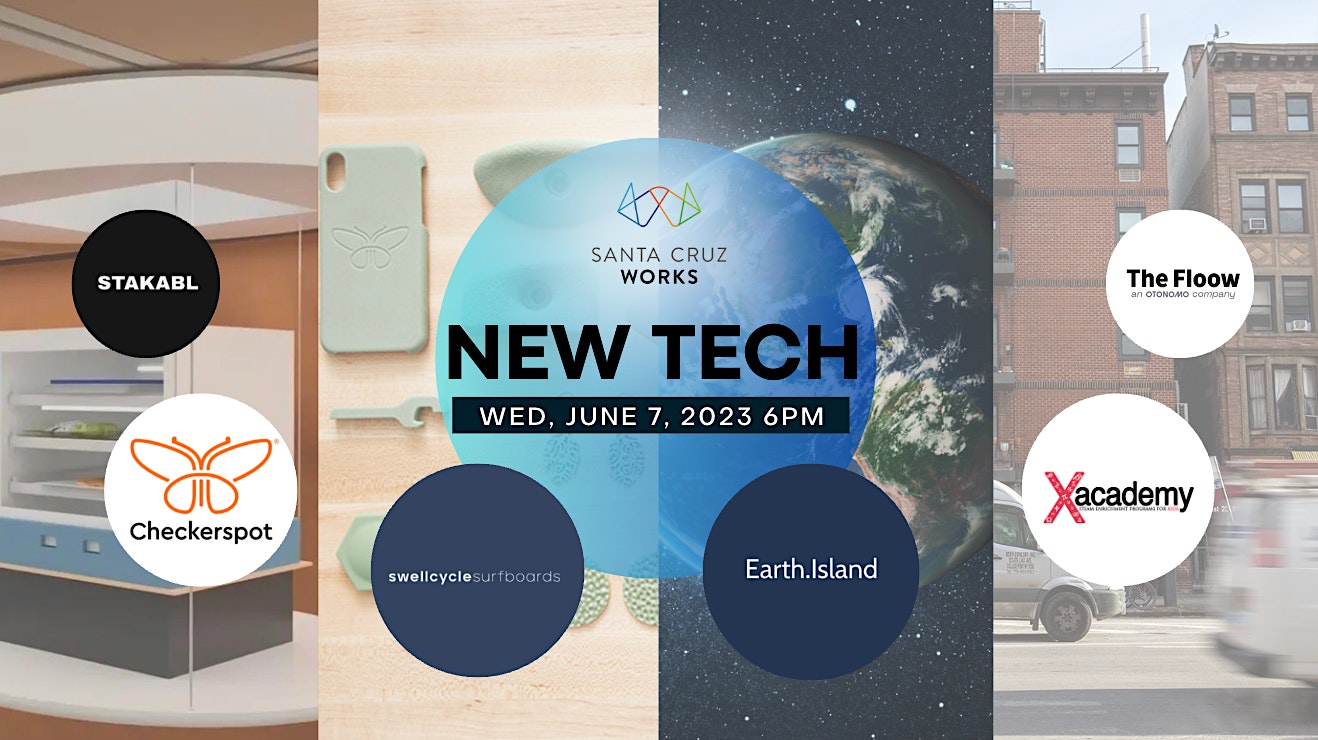 Checkerspot, Earth.Island, Stakabl, Swell Cycle Surfboards, The Floow, X Academy
OUR APOLOGIES. THIS MONTH'S EVENT HAS BEEN CANCELLED DUE TO VENUE LOGISTICS ISSUES.
—————————————————————————————
JUNE GLOOM?
No way! Brace yourselves for a lineup of presenters that'll rock your world harder than a Led Zeppelin reunion tour!
Presenting Companies
First up, we have Checkerspot. These folks are empowering product designers to stick it to old-school commodity oils and leap towards a post-petroleum future, armed with high-performance materials that would make a Marvel superhero green with envy.
Then, there's Earth.Island, who've cooked up a game so evolutionary it's practically grown legs and crawled out of the primordial soup. It's a fun-filled, global warming crash course that you really have to see to believe!
Stakabl, the geniuses who are literally raising the roof with their ceiling-based robotic storage system, are next. They keep track of your knick-knacks, doo-dads, and whatnot, and deliver them right when you need them. No more lost keys or missing socks, folks!
Then we have Swell Cycle Surfboards, who've made 3D printed surfboards a reality. And where else but in our beloved Santa Cruz? Surfs up, techies!
We also have The Floow. These guys are taking mobility and giving it a PhD in safety and smarts. They're combining data science, social science, and cutting-edge tech to ensure your ride is as smooth as a Colbert punchline.
X Academy is a local high school team that's making a splash in the tech world. They're headed to the Worlds MATE with their incredible underwater robot. Take that, Aquaman!
And finally, there's Corey. This company is so stealthy, we can't even reveal their name without fear of a ninja ambush. Let's just say, they're more hush-hush than a librarian at a silent retreat.
Hold onto your hats, folks. This lineup is more exciting than a caffeine-infused Big Dipper rollercoaster ride!
Networking Tables*
*More tables available. Let us know if you would like a Networking Table during the Networking Hour 6-7pm.
Get your tickets and join us! As always, admission includes food, live music, and immensely valuable networking opportunities.
Interested in Volunteering?
If you would like to help with check-in, setup, or teardown, please contact malinasantacruzworks.org. Volunteers get to attend for free!
Refund Policy
Please submit a refund request no later than 24 hours in advance of the event in order to receive a full refund. We can not refund tickets on the day of.