Techstars Startup Weekend Monterey Bay
February 5-7, 2021
(Online)​
Be an entrepreneur for a weekend!
Do you have an idea for a new business?
Are you curious about entrepreneurship?
Do you want to start a business but don't know where to begin?
Come to Startup Weekend and…
Get hands-on experience with the process of starting a business
Network with a community of fellow explorers
Learn how to refine your idea and explain it to people
You'll meet mentors who will explain key concepts and help you move your business ideas forward.
Techstars Startup Weekend is a program where everyone, from aspiring entrepreneurs to the merely curious, can learn about the process of starting a business. This is the ninth year that we will be bringing Techstars Startup Weekend to the Monterey Bay region. This year it will be online, so we've added features, like short, one-hour workshops Monday and Wednesday nights, award-winning instructors and bilingual mentors.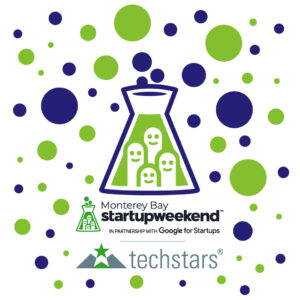 Register now
General Admission: $20
Free for Students
Who should attend? (ages 16 and over):
Students

Aspiring entrepreneurs

Serial entrepreneurs

Creatives

Makers

Coders
Hackers

Developers

Designers

Marketers

Innovators

Teachers
Startup Weekend 2021 Schedule (Tentative)
Monday, February 1, 2021
6 - 7 PM
Overview of Startup Weekend & Platform
Session: What makes a good business idea? Where do ideas come from?
Wednesday, February 3, 2021
6 - 7 PM
Session: How do I know this is a good business idea?
Deadline to submit a business idea
Friday, February 5, 2021
5 - 8 PM
Startup Weekend Welcome & Overview
Startup Team Formation
Session: Who are my customers and where do I find them?
Saturday, February 6, 2021
9 AM - 6 PM
Session: How do customer interviews impact my idea?
Session: How do I reach my customer, serve them, and make money doing it?
Session: How do I communicate my business idea?
Sunday, February 7, 2021
9 AM - 2 PM
Session: How do I tell my story through pitching my business?
Presentations to Judges
Announcement of Winners
Special Thanks to Our Event Partners
Global Startup Weekend Partners
Google Cloud Platform helps startups build web/mobile apps and is offering participants $300 in credit to build their apps (link can be found here). Teams can use Google Trends + Market Finder to test if there is a growing demand for their product and in which markets.
GoDaddy Registry provides a domain name that many innovators and entrepreneurs all over the world use. As part of our partnership, each participant can register a free domain name with GoDaddy Registry (.co, .us, .biz). Read more here. Redemption codes will be given to participants by the organizing team.
1 x free GoDaddy Registry domain, per person
Participants can redeem the code from startup.co
Local Sponsors and Partners
Be a coach!
To make this event a great experience for participants, we need great coaches!
We are looking for coaches to help the teams with:
Idea/Marketing Development
Creative Design
Technology, i.e., Coding
Business Model/Financial
Presentation/Pitching
Interested in coaching? Click below.
Be a sponsor!
We need sponsors to help underwrite the cost of food and supplies that keep the participants fueled up during the weekend. As a sponsor your business will get recognized multiple ways before and during the event. Click here for information about the benefits of sponsoring Startup Weekend Monterey Bay.
Want to be a sponsor? Click below.