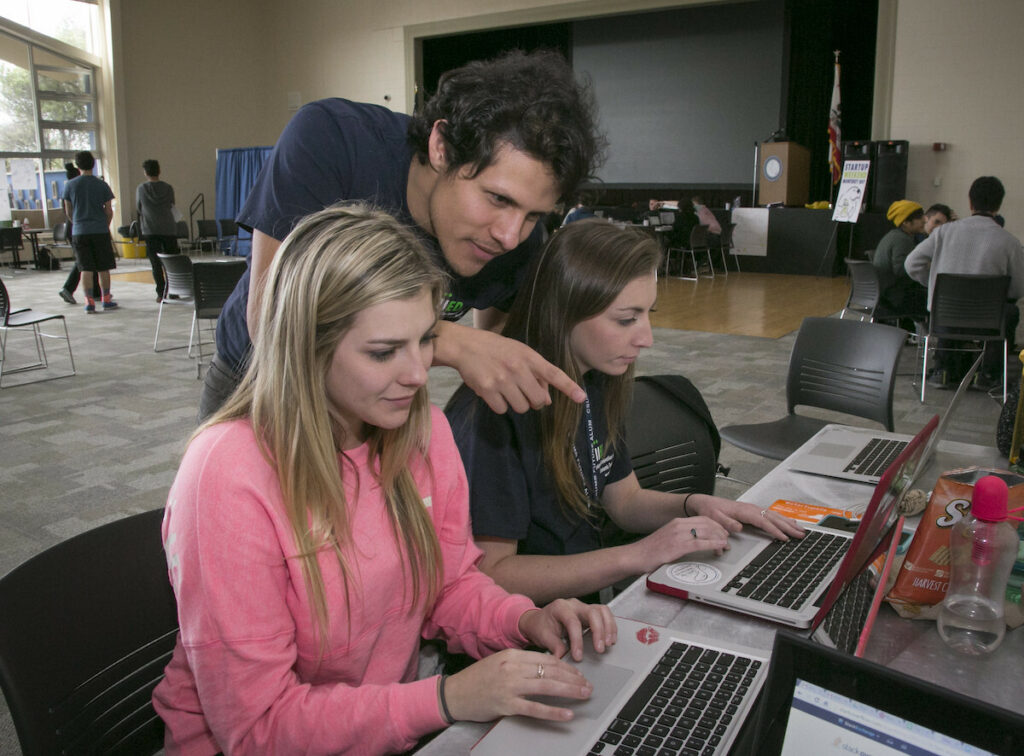 *This article was originally published on csumb.edu at https://csumb.edu/news/news-listing/csumb-institute-takes-the-reins-on-its-business-start-up-event/
After a decade of partnering with an international start-up accelerator, CSUMB's College of Business has decided to go it alone. What was once the Startup Weekend, an opportunity for students and community members to pitch business ideas and develop those concepts – has been renamed the Startup Factory.
Planned for Feb. 3-5 in the Business and Information Technology Building, the event is usually about evenly split between students and community members, and typically draws 60-100 participants.
Although the name is changing, the concept remains the same, said Brad Barbeau, a business professor and executive director of CSUMB's Institute for Innovation and Economic Development, aka iiED. But, he added, the organizational change will open the door to new possibilities.
Barbeau said the partnership with Techstars, which sponsors dozens of such events each year, had been fruitful in the past, but it was time to evolve to the next stage.
"Some of it had to do with branding, but a large part of it was us wanting to spin off events from this weekend model," he said. "We want to do the same kind of program over a series of meetings and take it into some of the underserved communities in the region."
For February's campus event, Barbeau said the traditional three-day model will still be used.
"Friday evening we get everybody together and anybody that has an idea gets up and pitches that idea," he said. "Those ideas range from small businesses to apps to ideas for the "next big thing."
Participants vote on which ideas they think are best. Teams of four to eight people are formed to develop those ideas with the help of professional mentors over the next two days and, on Sunday, after each team pitches its product to a panel of judges, a winner is announced.
Past events have produced ideas that were later developed into actual businesses, Barbeau said. Those include an educational organization, Seeds4STEM; a social app for military personnel developed by students at the Naval Postgraduate School; and the agriculture management company HeavyConnect.
Such success stories are only part of the practical benefits of the accelerator. Barbeau said students appreciate being able to work with community workers, many of whom are business people, on real-world projects.
"It's an opportunity for students to work with people who have more experience," he said. "And the community members get to experience the enthusiasm of the students.
"The students learn a lot about what it means to be an entrepreneur," he added. "They love that they get to work on creating something real.. This gives them a sense of how what they are studying fits into how a business runs."
The resulting atmosphere, he said, makes for an exhilarating and intense three days.
"They're exhausted by the end of the weekend," he said of the students.
Barbeau said the Startup Factory will be a good warm-up for the iiED Startup Challenge, which takes place in the spring. Students submit applications in early March and pitch a business idea a month later. They then have a month to develop their ideas before they are judged, with the winner being awarded a prize of $10,000.
Tickets for the Startup Factory are free for students of CSUMB, Hartnell and Cabrillo colleges, and other partner organizations. For other students, the cost is $43 for those registering before midnight Tuesday, Jan. 24, and $79 after that. Tickets for community members are $129. Visit the webpage of the Startup Factory Monterey Bay 2023 to purchase tickets.
For questions about attending Startup Factory, email info@startupmontereybay.com