AI Horizons
November 8 @ 6:00 pm

-

8:30 pm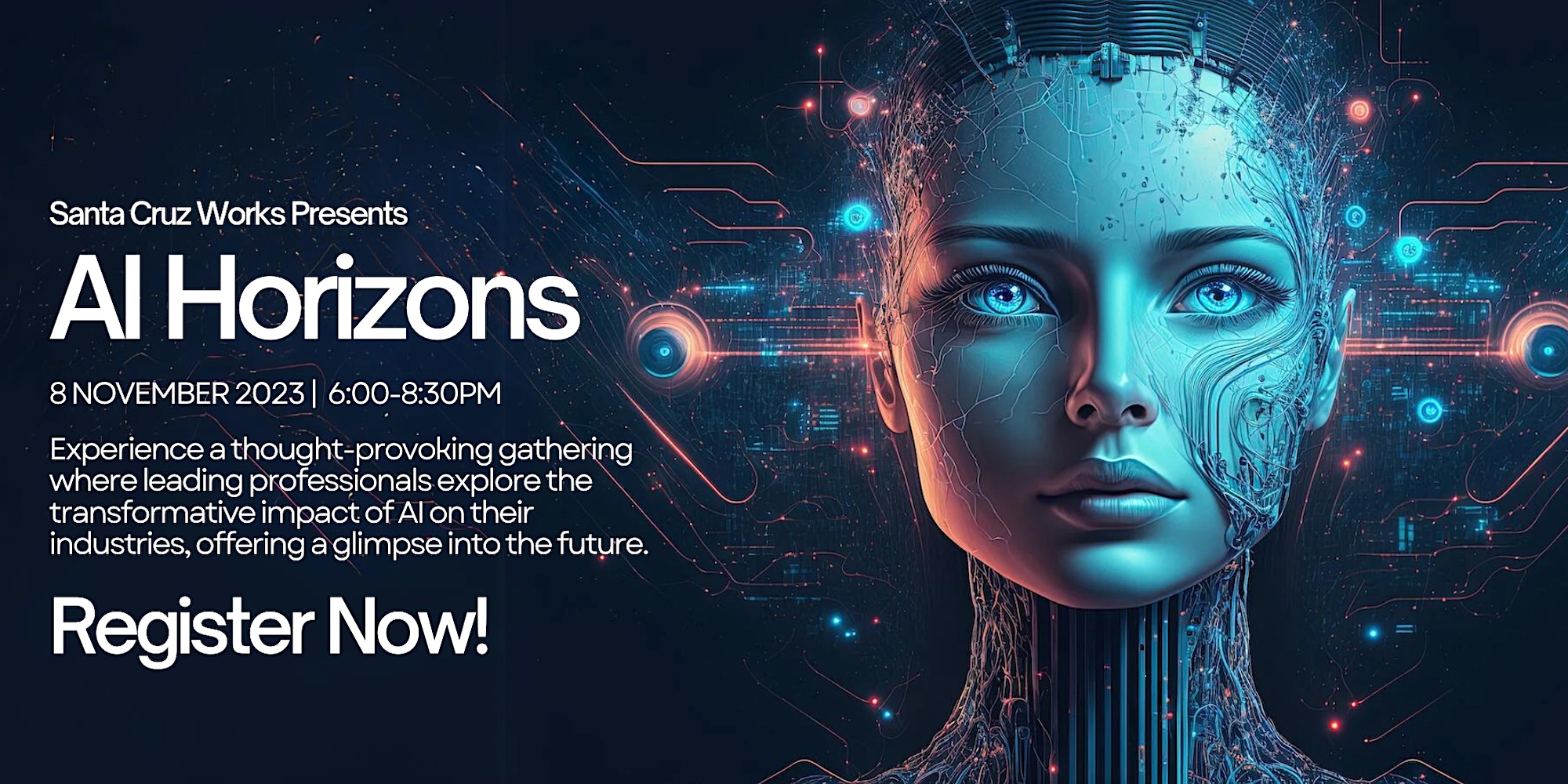 Join us at AI Horizons to explore how AI will transform education, government, and energy, followed by a Fireside Chat.
Are you ready to embark on a journey into the future of artificial intelligence and its transformative impact on education, government, engineering careers, and energy? Look no further than AI Horizons, the upcoming event that promises to be a thrilling look into the world of AI.
Guy Kawasaki is set to lead a Fireside Chat with UCSC's Chancellor Cindy Larive and Shift AI's Boaz Ashkenasky. But there's more! Companies like SapientX, Baskin School of Engineering, and Santa Cruz County will share insights on AI's role in their sectors. Explore demos from 10+ companies.
Industry Visionaries: Shaping the Future
At the Santa Cruz Works monthly New Tech, we've gathered industry visionaries who are at the forefront of AI innovation. These experts will share their insights and visions on how AI is set to revolutionize various sectors. Get ready to gain profound insights into the future of education, government, engineering careers, and energy.
AI in Government / Santa Cruz County Supervisor Zach Friend: Santa Cruz County's nascent approach to AI in government has already become a blueprint for discussion at the state and national level and is influencing early regulatory discussions in California and beyond. This discussion will look at the work Santa Cruz County government is doing in this space, how it's influencing the national regulatory debate and how you can get involved in the discussion.
AI in Engineering Careers / UCSC Dean of Baskin School of Engineering Alexander Wolf: Uncover the exciting opportunities and challenges that AI brings to the engineering profession. Learn how engineers are leveraging AI to design, innovate, and tackle complex problems.
AI in Human Interaction / SapientX CEO David Colleen: The most advanced conversational AI for everything from geo navigation to exhibit displays.
Simply Augmented / Boaz Ashkenazy: add the power of generative AI to your company or organization without a heavy initial investment; get to value quickly to drive growth.
Fireside Chat with Luminaries
Following the enlightening insights from our industry visionaries, AI Horizons will feature a Fireside Chat with three additional luminaries, including Boaz Ashkenazy, the CEO of Simply Augmented, and the host of the acclaimed Shift AI podcast. This engaging conversation will provide a deeper understanding of AI's real-world applications, challenges, and the trends shaping its future.
Pre-Event Extravaganza
But before we dive deep into the world of AI, we'll kick off the evening with an hour of excitement and connection! Enjoy delicious food and beverages while networking with like-minded individuals who share your passion for AI. Groove to live music that sets the tone for a fantastic evening, and don't forget to explore our demo tables showcasing some of the coolest AI-driven innovations.
Demo Tables
Cosmic Foundry
Greater Zurich Area
Idea Fab Labs
Insperity
Newsworthy.ai
Santa Cruz County gov
SapientX
Studio Holladay
Wynn Capital Management
Oh, Just One More Thing
There is so much going on with AI, that we have to spread it out into our December event. There, we will hear from more industry luminaries from Microsoft, Amazon, DALL-E, and more.
Interested in tabling? Sign up here. Sponsors, please email Malina malina santacruzworks.org to let her know you would like to table.
THANK YOU SPONSORS