Why, When, and How Founders Fail (and How to Succeed)
November 9 @ 12:00 pm

-

1:00 pm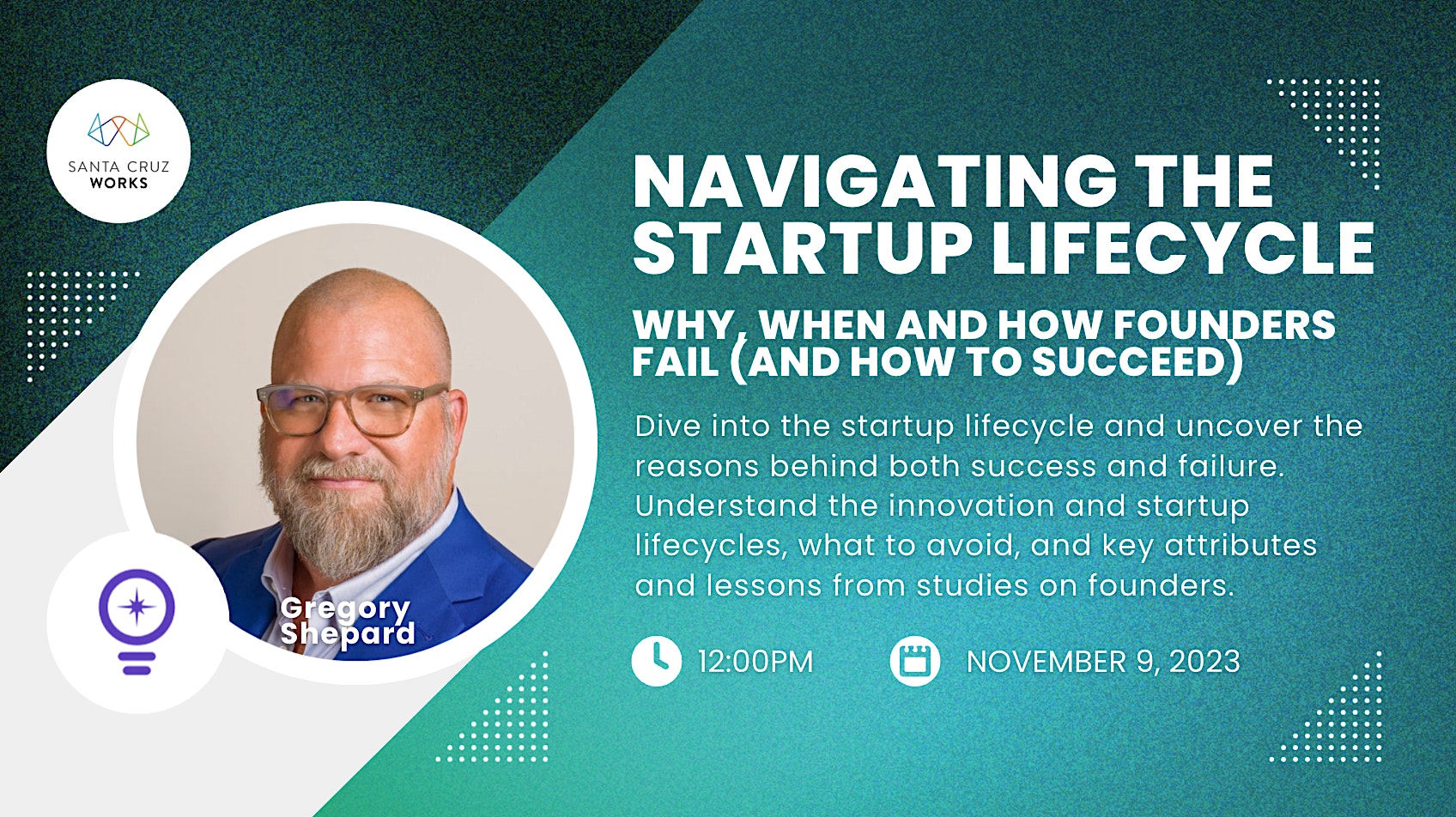 Join us for an eye-opening webinar as we delve into the world of startup founders and uncover the reasons behind both success and failure.
In the past few decades, foundership has become what Hollywood has long been to aspiring actors. Startups might be a place where dreams come true, but—like Hollywood—it's not a place where everyone's dreams come true. For every Google, Apple or Facebook, countless startups fall by the wayside, and thousands of smart, hard-working founders with great ideas wind up with more regrets than riches.
Join us for an eye-opening webinar as we delve into the startup lifecycle and uncover the reasons behind both success and failure. In this session, we will explore key topics that will equip you with valuable knowledge and insights to navigate the challenging startup landscape.
Why, When and How Founders Fail (don't step on the land mines): Learn about the common pitfalls that founders encounter on their entrepreneurial journey and avoid potential land mines.
Understand the innovation lifecycle (value creation & value capture): Gain a deep understanding of the innovation lifecycle and learn how to effectively create and capture value within your startup. Explore strategies and best practices to maximize the impact of your innovative ideas.
Understand the startup lifecycle (where are you and where are you going): Map out your startup's journey and gain clarity on your current position and future trajectory. Learn how to navigate the different startup stages successfully.
Get an introduction to the Gravity platform built by founders for founders: Gravity is a platform specifically designed to cater to the needs of founders. Discover how Gravity can support and empower you on your entrepreneurial journey, connecting you with other like-minded founders.
Learn the fundamentals of the types of founders and the startups they create: Learn about founder insights and explore their characteristics, motivations, and the strategies they employ to achieve success.
Our special guest, Gregory Shepard, has harnessed fearless optimism and steadfast determination to become a successful author, speaker, and angel venture capital investor. Inspired by Silicon Valley's deal-making culture, Gregory is now dedicated to spreading the concept of "Altruistic Capitalism". He strives to inject capital into the hands of ambitious, creative, and passionate young entrepreneurs who are looking to make a positive impact.
Through extensive research, including thousands of in-person interviews with founders, accelerator programs, investors, and industry experts, Gregory has gained valuable insights into startup success and failure. His findings reveal that around 50% of startups fail within two years of launch, and a staggering 90% fail within the following five years. This data-driven approach highlights the need for founders to blend the art of ideation with the science of business.
Don't miss this opportunity to gain valuable knowledge, learned from real-world experiences and studies. Register now to secure your spot in this insightful webinar!
Thank you to our generous sponsors for your support!