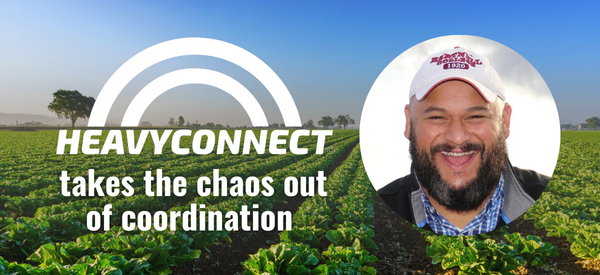 Founder Patrick Zelaya reflects on the startup's rise to international success
Seven years ago, HeavyConnect Founder and CEO Patrick Zelaya was working on perfecting his pitch to present at the 2016 Startup Challenge Otter Tank. A few weeks later, his startup won first place in the Venture Division.
And now HeavyConnect is helping small farms throughout the world keep track of operations in a manageable, simple interface.
"Our team has grown significantly in who's using us throughout the world as well as the size of the HeavyConnect team," he said. "In the industry, in the first mile of the food supply chain, as well as throughout, regulations are requiring a lot of complex recordkeeping. And to do that on paper has almost become unmanageable for a lot of the developing suppliers for our food supply chain, the smaller farms throughout the world."
HeavyConnect is an app that allows users to manage multiple operations from one dashboard. Using HeavyConnect, food supply chain workers can keep track of food safety compliance, connect with payroll services, and more.
"What we provide is a solution that makes that process a lot easier so that they can keep being farmers and not just administrative record keepers," said Zelaya. "Our goal is to keep growing that not just at the enterprise level, but also with the smaller growers."
After a long career in global agriculture, Zelaya understands the need for efficiency and ease of operations. Prior to HeavyConnect, Zelaya spent years working in the global agricultural industry. While working at Deere & Company, he traveled the world working with diverse farming industries, including tractor assembly in Iowa, forage harvesting in Germany, sugar cane harvesting in Argentina, and more.
During his work, Zelaya observed workers struggle to keep track of the multiple programs necessary for running operations.
"The idea was to create a suite of software like Microsoft Office, but for farming," said Zelaya. "So instead of Excel, PowerPoint, Word, you would have a timekeeper, you would have recording information called an Inspector, and a training module."
As Zelaya was not a programmer, he needed a team to get the app up and running. He brought his idea to Brad Barbeau, director of the Institute for Innovation & Economic Development (iiED) at California State University Monterey Bay (CSUMB), who suggested he hire student interns to work on the project.
"Those different [app] components got built through an internship at CSU Monterey Bay, and that really got the grower community, not just in Salinas, but throughout California, interested in what we do," said Zelaya. "We brought that idea to the Startup Challenge and got a lot of interest."
Startup Challenge is an annual competition for new businesses that teaches, coaches, mentors, networks, and connects entrepreneurs to the knowledge and resources they need to succeed in the marketplace. The event is organized by the iiED, an institute of the CSUMB's College of Business.
With Venture, Social Venture, Mainstreet, and Student Divisions, the Challenge is open to startup businesses in Monterey, San Benito, or Santa Cruz counties. Those accepted to the challenge attend workshops and work closely with experienced mentors to prepare to compete in the final round to win additional opportunities and cash prizes.
Startup Challenge 2023 is still accepting applications for this year's competition.
According to Zelaya, Startup Challenge prepared him and his team to successfully pitch to other audiences in the tech industry.
"Shortly after we finished with the Startup Challenge, we got accepted into 500 Startups in San Francisco, which is an accelerator program in the tech industry there," he said. "It provided a lot of great practice and insight into what would be needed for success as a startup. And it's really been a jumping-off point for us. We went through Techstars Farm to Fork Program in the Twin Cities in Minnesota. And after that, we took venture capital investment and did a sizable seed round with participation from Ecolab and Techstars."
For Zelaya, spending the majority of time with the growers and farm workers was a key part of HeavyConnect's success.
"What we have been building isn't your traditional software startup," he said. "Our experience in spending the majority of our time in the field with the growers, with the farmworkers is not something that you find coming out of the Bay Area. That was very important to our success and has given us a lot of insight to build a platform that is very intuitive for our users.
Working in the industry and with farm workers directly has taught Zelaya what workers need to keep operations running smoothly.
"The common thing that catches people's eye when we deal with growers is the user interface is so simple that everyone in the operation can adopt it quickly versus having a complex training and adjustment hurdle to overcome to make that digital transformation away from paper-based workloads."
Today, HeavyConnect continues to grow throughout the country and internationally.
"We're excited to keep growing and serving this need," said Zelaya.