Enter the Startup Challenge Monterey Bay Now!
Startup Challenge Monterey Bay— the Central Coast's premier competitive new business accelerator— is accepting applications to enter this year's competition! 
Apply by Monday, March 8, 2021 to participate in this year's challenge and gain immeasurable connections, visibility, and the chance to win funding and mentorship opportunities.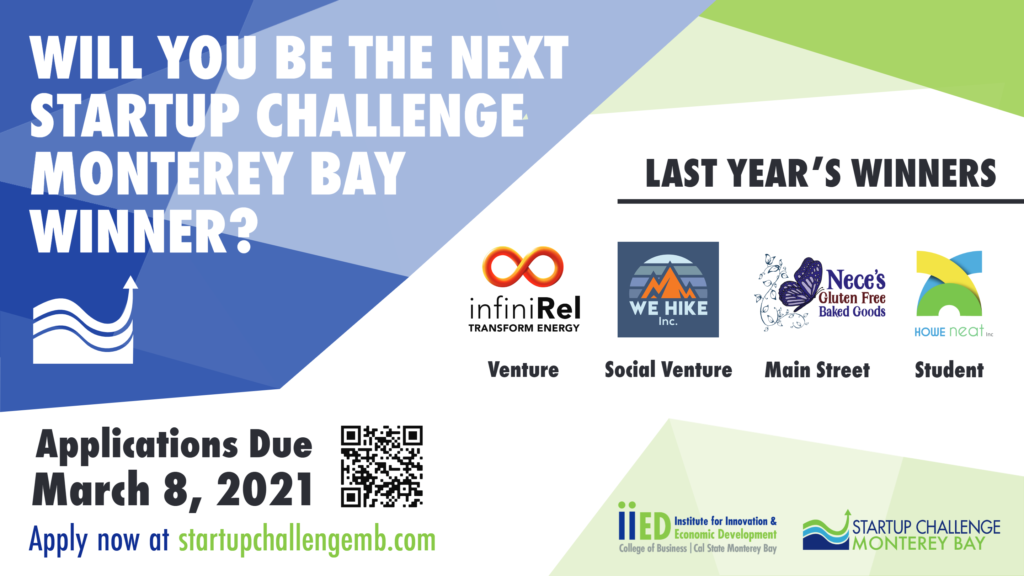 Save the dates for Startup Challenge Monterey Bay 2021!
Application deadline – Monday, March 8th at 11:59 PM PST.
Final Round Pitches Broadcast – Friday, May 7th.
Startup Monterey Bay Online Tech Meetup
Tuesday, March 9, 2021
6:00 PM - 7:30 PM
Meet this month's company sneakers:

Thank you to our marketing partner:


Startup Weekend
 is a hands-on educational program where everyone, from aspiring entrepreneurs to the merely curious, can learn about the process of starting a business. 
Nine new startup business teams were created during the 2021 Techstars Startup Weekend Monterey Bay held February 5-7, 2021. This was the ninth year that the Institute for Innovation & Economic Development at Cal State University Monterey Bay hosted this event, and it was the first year that the event was hosted completely online. Seventy-one participants (both students and community members) signed up for this event, 30 new business ideas were presented, and thirteen of those ideas were selected on Friday, February 5, to work on over the weekend.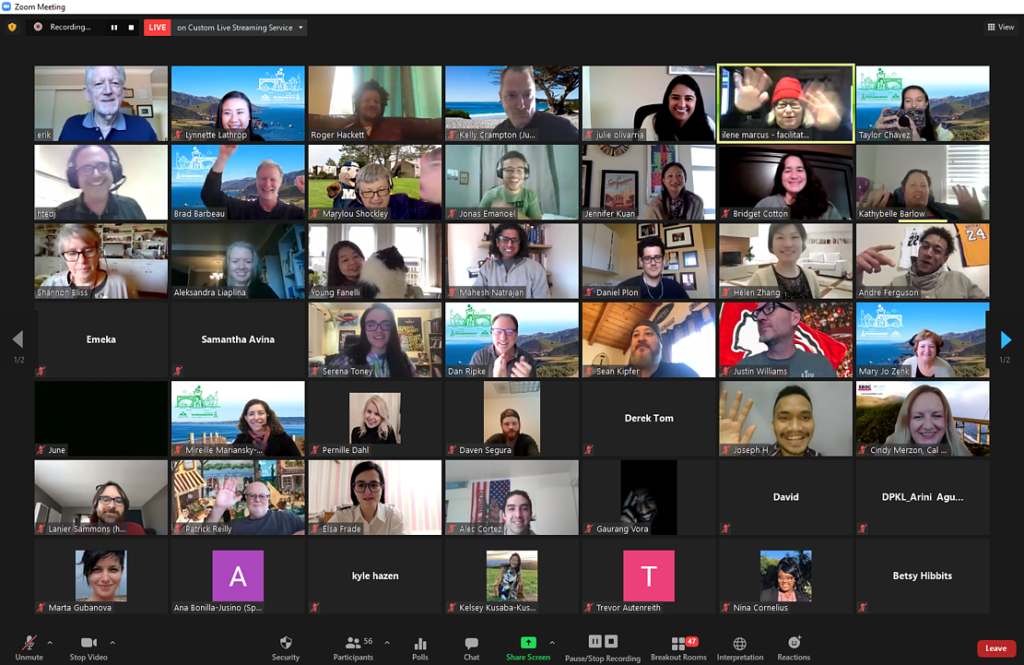 The judges chose the following winning teams:
The first place winner and the recipient of the Crowd Favorite Award, ZenSpace, is an at-home immersive meditation pod that helps its users overcome anxiety and stress. 
Runners-Up:
Second Place: Seeds4STEM – provides resources to parents and educators to build STEM clubs for 3-8th graders.
Third Place: Lilliput –  a smart toy (Plushy Cat) to revolutionize literacy for bilingual early language learners.
iiED Featured Intern: Kathybelle Barlow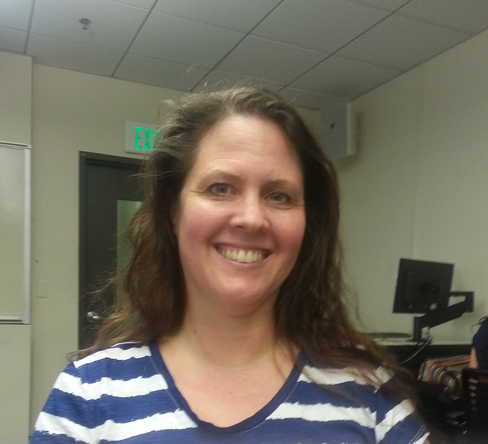 The iiED has a very active intern program for CSUMB students studying in various majors. These interns get valuable work experience in event production, marketing, project management, video production, print and web design, research, and instructional design work as they help us with our programs and events. Each month we will focus on one of our outstanding student interns.
This month's featured intern is Kathybelle Barlow. She has worked with the iiED in the Summer of 2020, and has returned this Spring to write success stories of startups that have won one or more of our iiED programs, and is doing her capstone on collaborating to expand the relationship between the iiED programs (e.g. Startup Challenge: Social Venture Division, Startup Tech Meetup) and the Nonprofit Sector in the Monterey Bay Region. Kathybelle has an AA in Health Science/Community Health from Cabrillo College and is a Collaborative Health and Human Services major with concentrations in Public Administration/Nonprofit Management and Social Work and a minor in Nonprofit Management at CSU, Monterey Bay. In addition to working with iIED, Kathybelle is a COPA leader (Communities Organized for Relational Power in Action) with CCCIL (Central Coast Center for Independent Living), and was appointed to the Advisory Council for the Monterey County Area Agency on Aging by the County Board of Supervisors, as well as serves on the Legislative & Advocacy Committee and the Monterey County Aging and Disability Resource Connection (MCADRC) Advisory Committee.
Her plans are to graduate in Spring 2022 and apply her many skills collaborating with government agencies and nonprofits to reduce loneliness and social isolation in adults and seniors. She may even become a founder of  her own startup nonprofit business making local activities in each county in the United States easier to find so local and visiting adults and seniors can build friendships and grow their social networks. You can learn more about Kathybelle on her LinkedIn page here. 

Startup Launchpad Mentor Program Updates
On February 11, we hosted another Launchpad Mentor meeting where a startup presented to our mentor network for feedback. February's company presenters were Sharque and Jordan Starr of Nece's Gluten Free Baked Goods. Nece's was the winner of last year's Startup Challenge Main Street Division, pitched at the SICC Expo, and has come a long way over the past several months. Their home-based baking business, focused on gluten-free foods, has expanded and is about to outgrow the limits set by their home production license. They recently launched a new website, which allows customers to order online for delivery. Their next exciting challenge is to secure a larger kitchen and continue to serve more gluten-conscious members of the Monterey Bay region.
Jennifer has a CPA firm in Monterey. Her focus is on individuals, closely held businesses, family owned businesses, and professional services. She has industry experience in real estate, agriculture, construction, healthcare, restaurants, and nonprofits.
The Startup Launchpad is here to help entrepreneurs turn their business ideas into launchable, fundable businesses. Whether these businesses are very early in their quest or nearly to their Series A round, our network of mentors and advisors, supported by our educational and training programming, can help them find their way to success.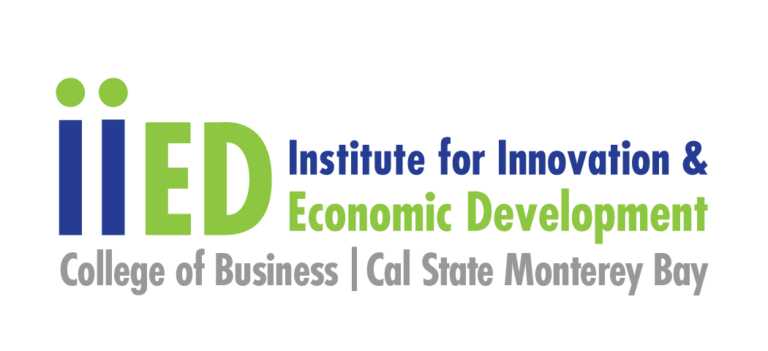 The Institute for Innovation and Economic Development, California State University, Monterey Bay,
Seaside, CA 93955, United States